The 2013 Jerry Wright Memorial Coaches Award
Awarded to Kevin Day, former coach of the Kenmore West Blue Devils.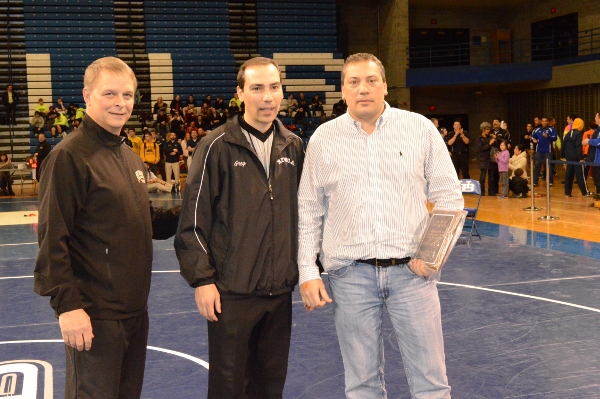 Each year, the Niagara Frontier Wrestling Officials Association honors one section six coach for their excellence as a coach, and their dedication to the sport.
This year's recipient, an accomplished former wrestler at Iroquois high school, is truly passionate about the sport of wrestling. For 17 years, coach Kevin Day has been a part of the coaching staff for the Kenmore West Blue Devil wrestling program, serving 13 years as head coach. Over that 13 year period, Kevin has established himself as one of the top coaches in Section VI, building a head coaching record of 114-62 in the highly competitive Niagara Frontier League. His teams have finished ranked in the Buffalo News Top Ten five different seasons. The Blue Devils captured the Section VI Tournament team championship the last two years that he coached, and last season they were the Niagara Frontier League Champions.
Coach Day has trained eight Section VI Champions, 3 New York State Wildcard winners, and three New York State place finishers. None of his coaching success would have been possible without the support and contributions of his loving wife Renee. At the end of last season, Kevin stepped back as head coach to become a wrestling dad. He continues his work to promote the sport of wrestling and to have all wrestlers he comes in contact with grow as young adults, and become better at the sport of wrestling.
Kevin is dedicated, intense, disciplined and only asks the same of his wrestlers. His passion and enthusiasm for the sport is contagious and has positively influenced many. He continues his love of wrestling by coaching his three sons—Connor, Cory, and Caleb– and many others in "The Barn," at his home in Elma, and on the Iroquois sidelines.
Please join us in honoring coach Kevin Day as this year's recipient of the NFWOA coaches award.
The 2013 Contributor of the Year Award
Awarded to our own Peter Roetzer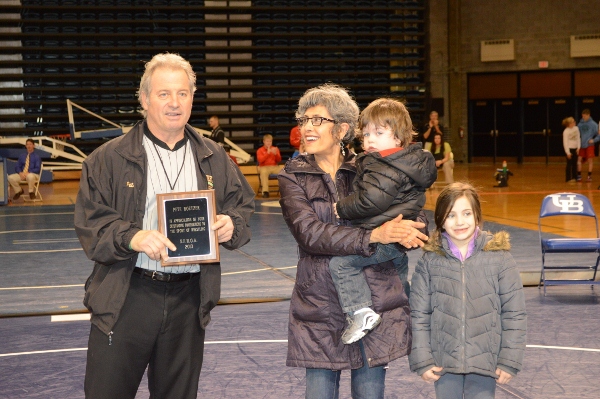 Peter F. Roetzer
Pete is a 1973 graduate of Maryvale High School, where he was a 3 sport athlete. Pete was a varsity player and letter winner in Football (where he was an 'All Conference' running back), Baseball (where he was an 'All Conference' 3rd Baseman in 1972 & 1973), and Wrestling [where he was a sectional champion in both 1972 & 1973 – wrestling under Roger Cromwell ]. In 1973, was also section 6 'Intersectional Champion', and was voted 'Outstanding Wrestler' at the state qualifier tournament.
Pete went on to Missouri Valley College, where he continued playing football and baseball, were he earned an outstanding 8 Varsity Letters! After graduating and teaching physical education in Missouri for 2 years, Pete returned to WNY where he joined Glenn Bateman's wrestling staff at Tonawanda High School.
In 1987 Pete joined the NFWOA association officiating section 6 wrestling. In 1998, Pete was inducted into the Maryvale Athletic Hall Of Fame. In 1999 Pete took over the instruction & training for the NFWOA's new and upcoming officials.
Pete lives in Amherst, where he is married to Roseanne D'Addetta. Pete is the owner of his own concrete business Peter F. Roetzer Concrete Construction Co. Pete & Roseanne have four children Peter, Michael, Rebecca, and Annette – and are proud grandparents.
Click here for a list of past winners.